Diving in Malta & Gozo is a treat with crystal clear, warm Mediterranean waters and a variety of wrecks and underwater caves.
Malta and her sister island, Gozo have been listed as a top diving destination for many years and was no surprise when Malta was declared diving destination of the year in 2018. Few countries can boast having such clean and clear azure waters. The high visibility is coupled with warmer sea temperatures than you might expect in other locations. And then there are all the beautiful wrecks and sea caves to explore, with over 30 Malta and Gozo dive sites listed in SpotMyDive.
5  Facts about Diving in Malta.
Diving in Malta means enjoying more than 200 dive sites from wrecks, reefs and caverns
More than 40 dive schools.
Some of the clearest waters in the world.
Visibility of 30 metres down year-round.
Average water temperature year-round of 18°C.
Malta Dive Centres and Schools
Many of the dive centres are situated in the north of the island.  Dive centre locations are in places such as St. Paul's Bay, Cirkewwa, -a key point between Malta, Comino and Gozo, St. Julian's, Bugibba and of course Marsalforn on Gozo.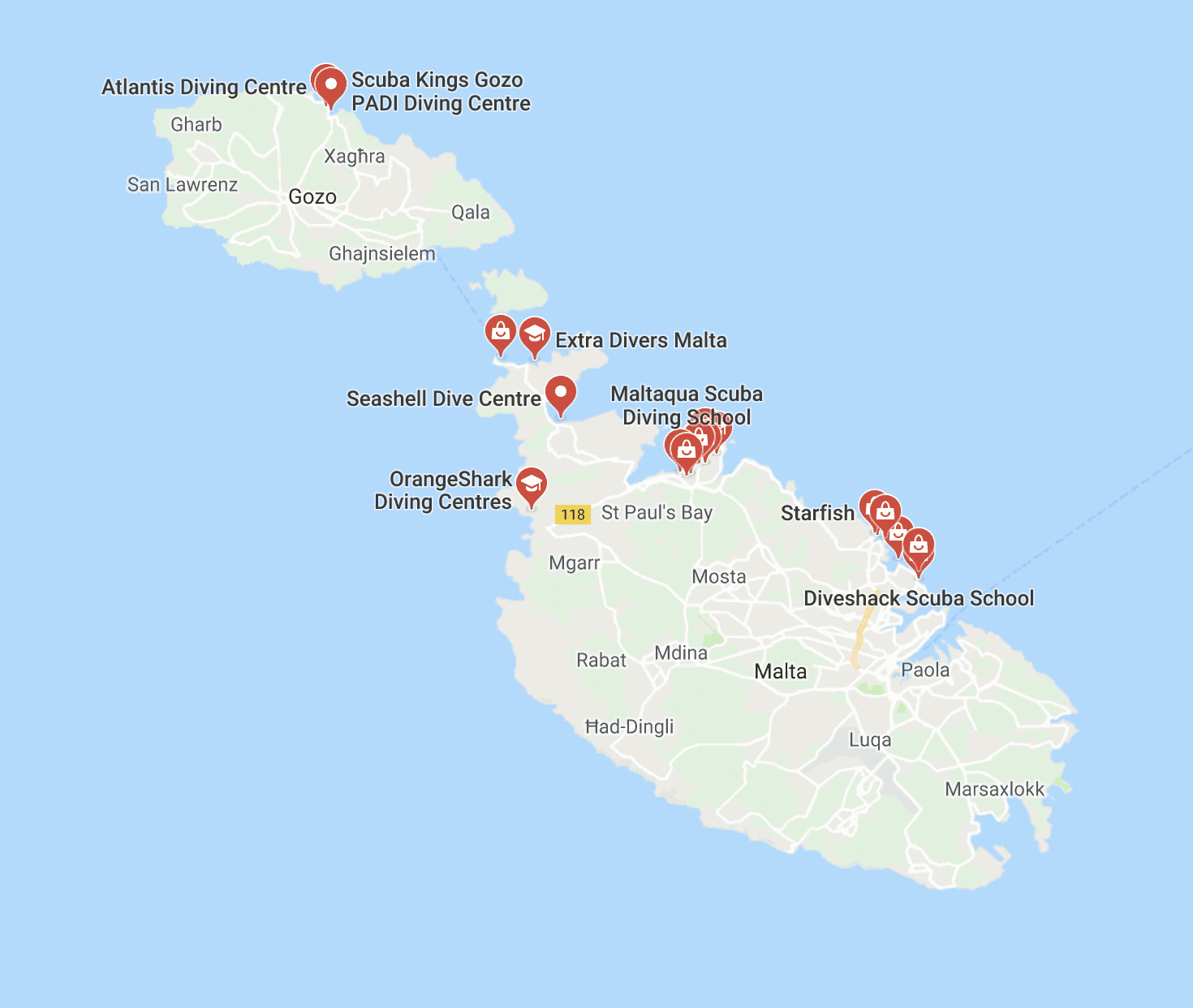 Below is a section of dive centres/ schools across the island
Bezz Diving Malta at Cirkewwa.
Scuba King at Marsalforn on Gozo.
Buddies at Bugibba.
Starfish at St. Julian's.
Atlantis at Marsalforn on Gozo.
Extra Divers Malta at Cirkewwa.
Maltaqua (one of Malta's oldest) at St. Paul's bay.
Gozo Diving (one of Gozo's oldest) at Xewkija on Gozo.
Why not Learn to Dive whilst in Malta
The crystal clear calm water, with up to 30 metres visibility makes learning to dive easy.  The wide range of sites, which are close to each other in Malta and Gozo, allows you to learn and experience different types of dives and sites, in one day. There is really no excuse to not want to experience this underwater paradise.
The Costs to Learn to Dive.
Many dive schools offer package deals with different site type accesses and of course, adapted to skill level.No certification dives are also offered  starting at € 44. A beginner's dive in Xlendi, for instance, can be as little as 42 € for an afternoon with bottles, instructor, insurance and gear included.All levels are available at all dive schools generally on both Malta and Gozo, expect at a few specific technical diving centres.
Look for prices for 1 off dives:
Look for prices for whole dive course
Winter Diving in Malta for the Best Underwater Photography
The Maltese winter is from November until March . The water can be as warm as 14 degrees and although there might be stormy days, there are many protected bays from which to dive in. So winter diving in Malta is absolutely possible and might be more rewarding overall.
As the water is warmer closer to the coast in winter and also the there are no swimmers, many of the fish and other underwater inhabitants are found closer to the shore. For underwater photography fanatics this time of the year is the most rewarding.
There are many endemic Maltese species and while you are down there you might get a glimpse of the following:
Atlantic Blue Fin Tuna
Squid
Barracuda
John Dory
Octopus
Blenny
Moray Eel
Scorpion Fish (highly poisonous)
Stingray
Wreck Diving
Below is a list with an overview of some of the most remarkable wrecks  E.g. HMS Maori off Valletta is completely accessible for advanced divers and for beginners it can be easily circled.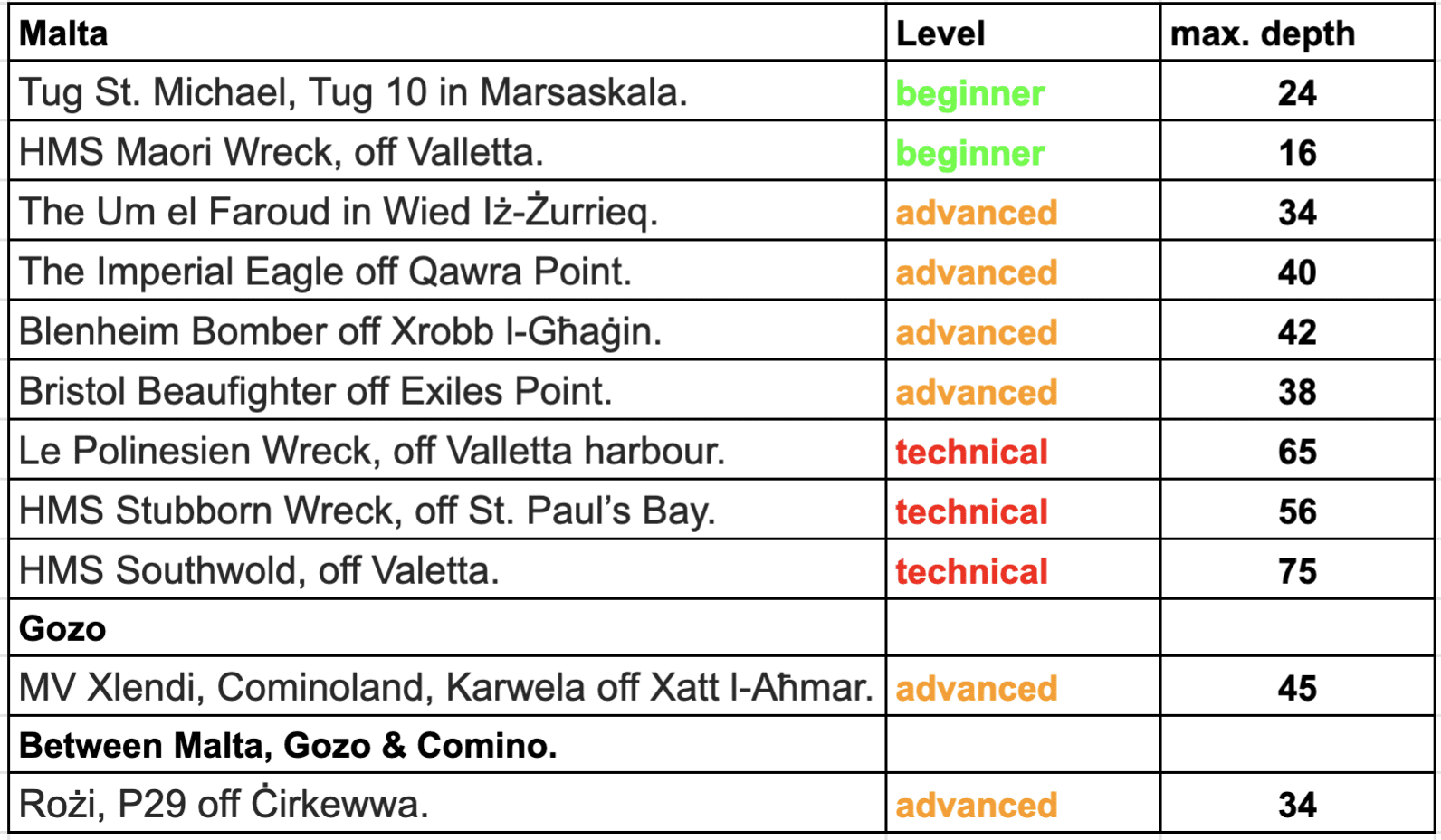 Reef and Cavern Dives.
The below list is an overview of the must do dive sites of the stunning Maltese underwater world.  Dive according to your level of experience or up skill yourself.